KOMPAKTE LÖSUNG
PASSEND FÜR JEDES PROJEKT
Die myBOX-Serie bietet eine umfassende Lösung zur Überwachung und Steuerung Ihrer Technologie. Vorinallierter Micro Scada Server mit herrausragender konektivität, hardeware in Industriestandart. Sie bekommen eine komplette Visualisierung, sowie einen fortschrittlichen, leicht zu konfigurierenden Router / VPN.
NUTZERFREUNDLICHES INTERFACE
myBOX ist die perfekte Lösung für automatisierte Prozesse, bei denen reguläre Computer nicht die nötigen Kapazitäten erfüllen. Mit der myBOX wird Ihre Produktion schnell und sicher digital überwacht und erfasst.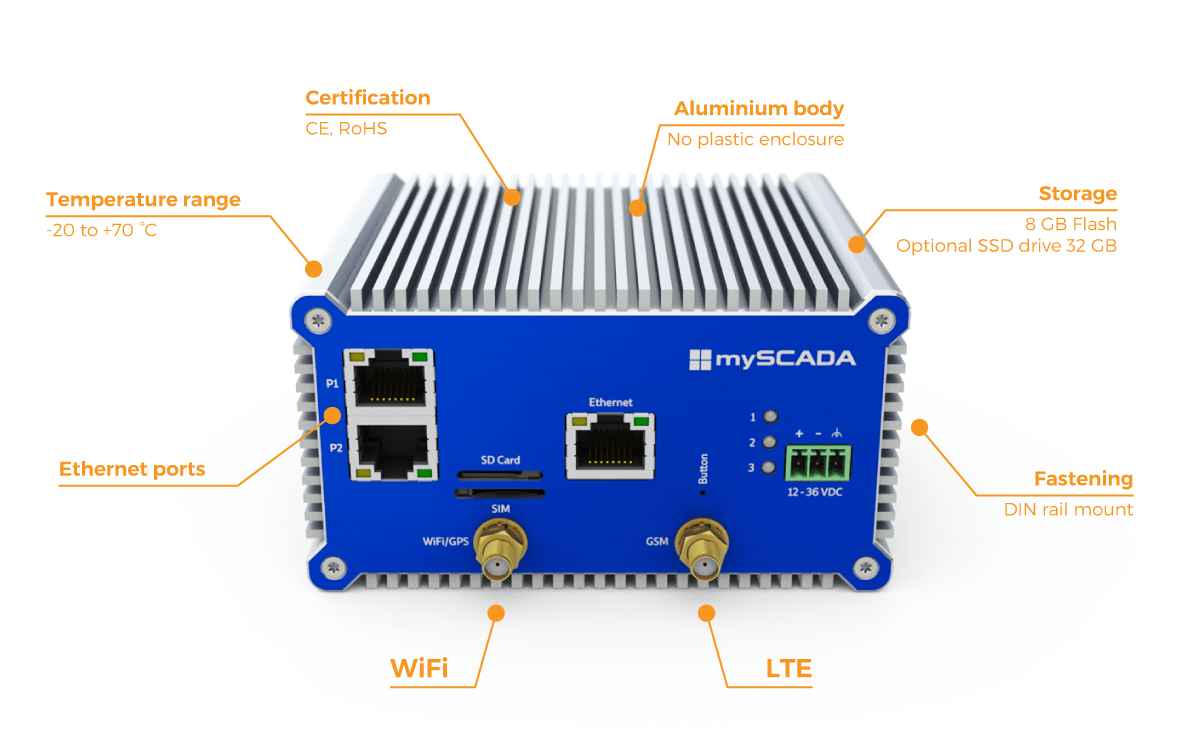 HIGHLIGHTS
Wir garantieren Ihnen einen kompletten HMI / SCADA-Server ohne Installationsprobleme oder Ärger mit Aktualisierungen, inklusive remote control und das zu einem fairen Preis. myBOX wurde mit dem Hintergrund, der Langzeiterfahrungen im Bereich der Industrieautomatisierung, von Experten entwickelt. Sie können Ihr SCADA-System in wenigen Minuten einrichten. Sie müssen dazu lediglich myBOX mit Ihrem Computer koppeln danach IP und VPN einstellen, um remote access zu erhalten, ein Projekt herunterladen – und Sie sind bereit los zu legen. myBOX highlights:
Scalable vector graphics
myPRO is based on scalable vector graphics. Thanks to this function, you can use myPRO project on any device.
In this case, the operator can use the project on his computer, tablet, or even mobile phone.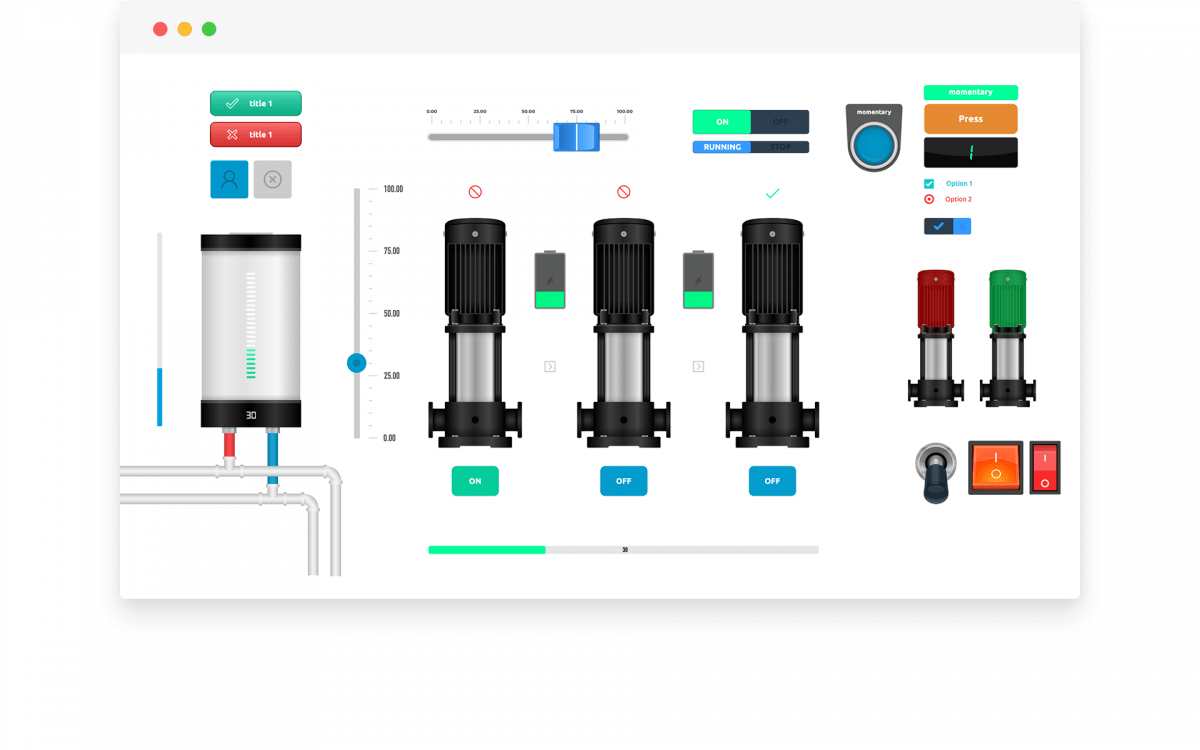 Alarm system
A complex alarm system allows you to process thousands of alarms per second.
You can define alarm activation values, value and time threshold, severity, area, and set the notification announcement.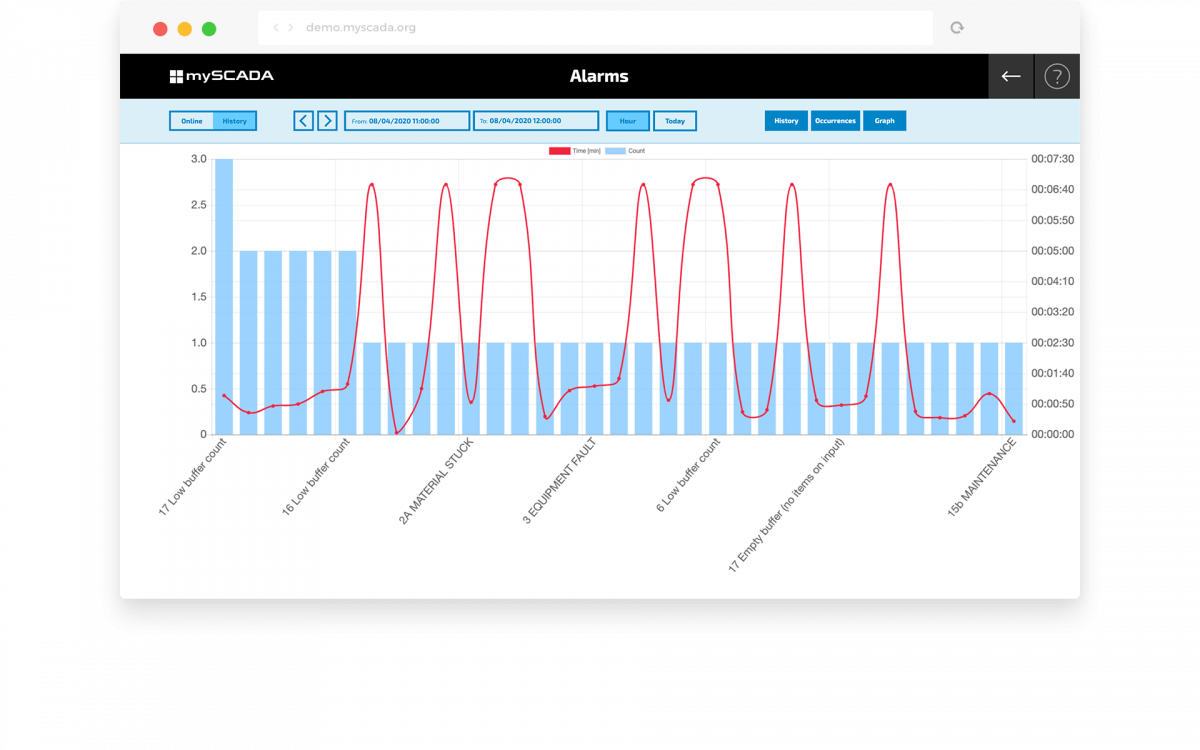 Views of technology
myPRO has unlimited options to show your technology, you can use animations,
effects or time sequences to link your graphical objects with your controller.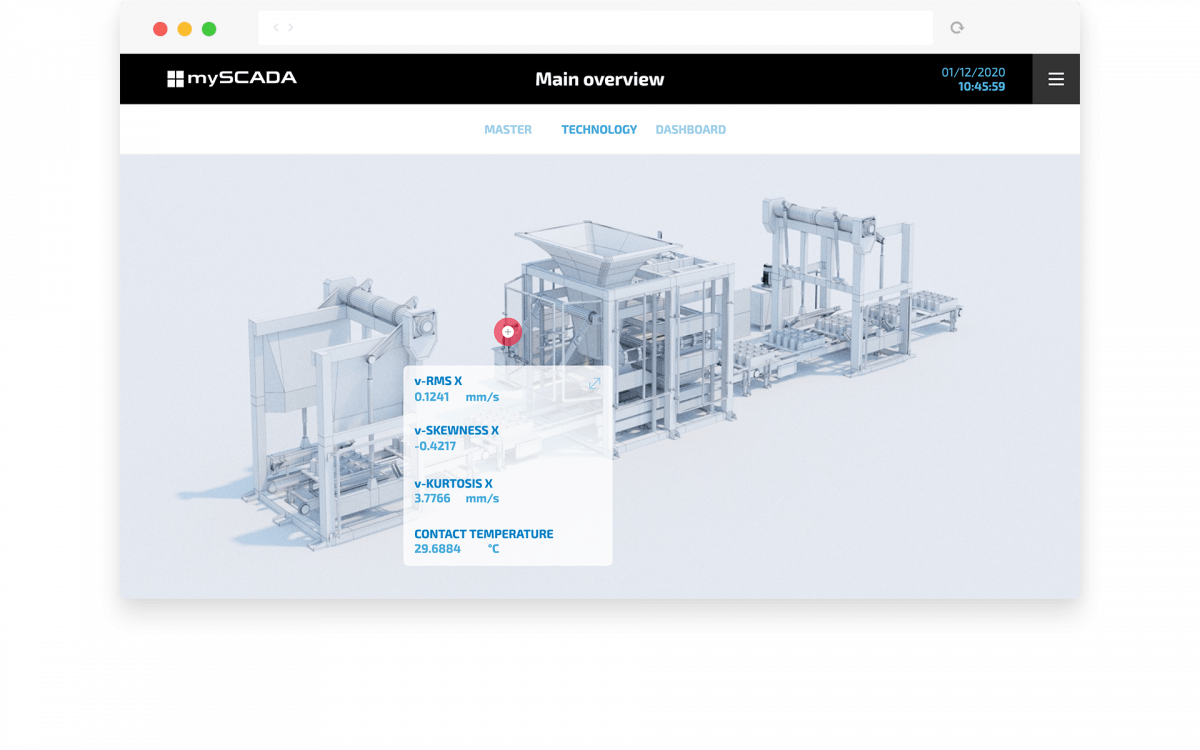 Important Trends
Simply define powerful time-based Advanced Trends with auto/manual scale, multiple axes, and live pen hiding.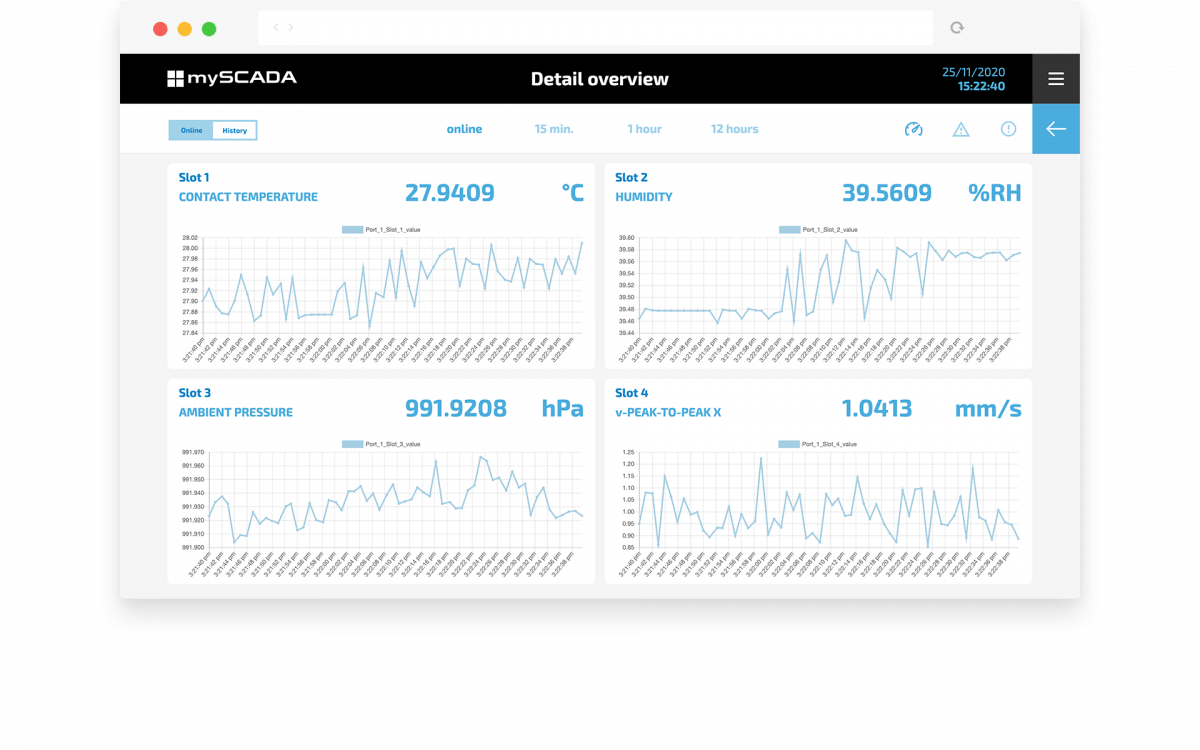 PRODUKTNUTZER
3 TYPEN VON NUTZERN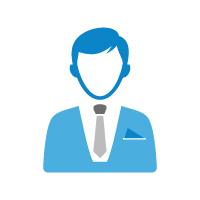 Manager
Tragen die Verantwortung für das gesamte Unternehmen. Deshalb ist es für Sie besonders wichtig einen generellen Überblick zu behalten. myBOX ermöglicht es Ihnen alle Daten problemlos und auf einen Blick abzurufen.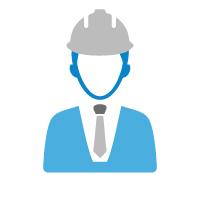 Operatoren
Müssen stehts als erste vor Ort Probleme aufspüren und Beheben. Dank unserer myBOX werden Sie sofort über Störungen und deren Ursprung informiert.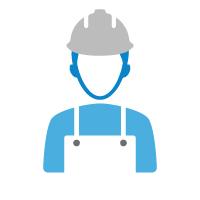 Wartungspersonal
Hat die Möglichkeit Daten retrospektiv abzurufen um dadurch Störungsfaktoren rückwirkend zu ermitteln und zu beheben. Dadurch werden Reisekosten und Zeit gespart.
ALLES IN EINEM
Diese kompakte myBOX-Lösunge umfasst die Funktionalität eines industriellen SCADA-Server, Kommunikations-Server, HMI-Visualisierungssystem, Switch, Router und 3G/LTE-Modem.
SO FUNKTIONIERT ES
myBOX verbindet sich direkt mit Ihrem Netzwerk und kommuniziert somit direkt mit der PLC/DCS steuerung. Für die Verbindung der Operatoren nutzen Sie den zweiten ethernet port – durch die nutzung getrennter Netzwerke ist eine höhere Sicherheit gewährleistet. Der Integrierte VPN Server ermöglicht es der myBOX sich sicher mit dem Internet zu verbinden. Außerdem können Sie ein 4G/LTE netzwerk jederzeit als Automatisches BackUp einrichten. Man kann die Zugänglichkeit des Netzwerks regulieren für jedes Endgerät, dank der vorinstallierten Firewall. MyBOX ist universell und Nutzerfreundlich einsetzbar.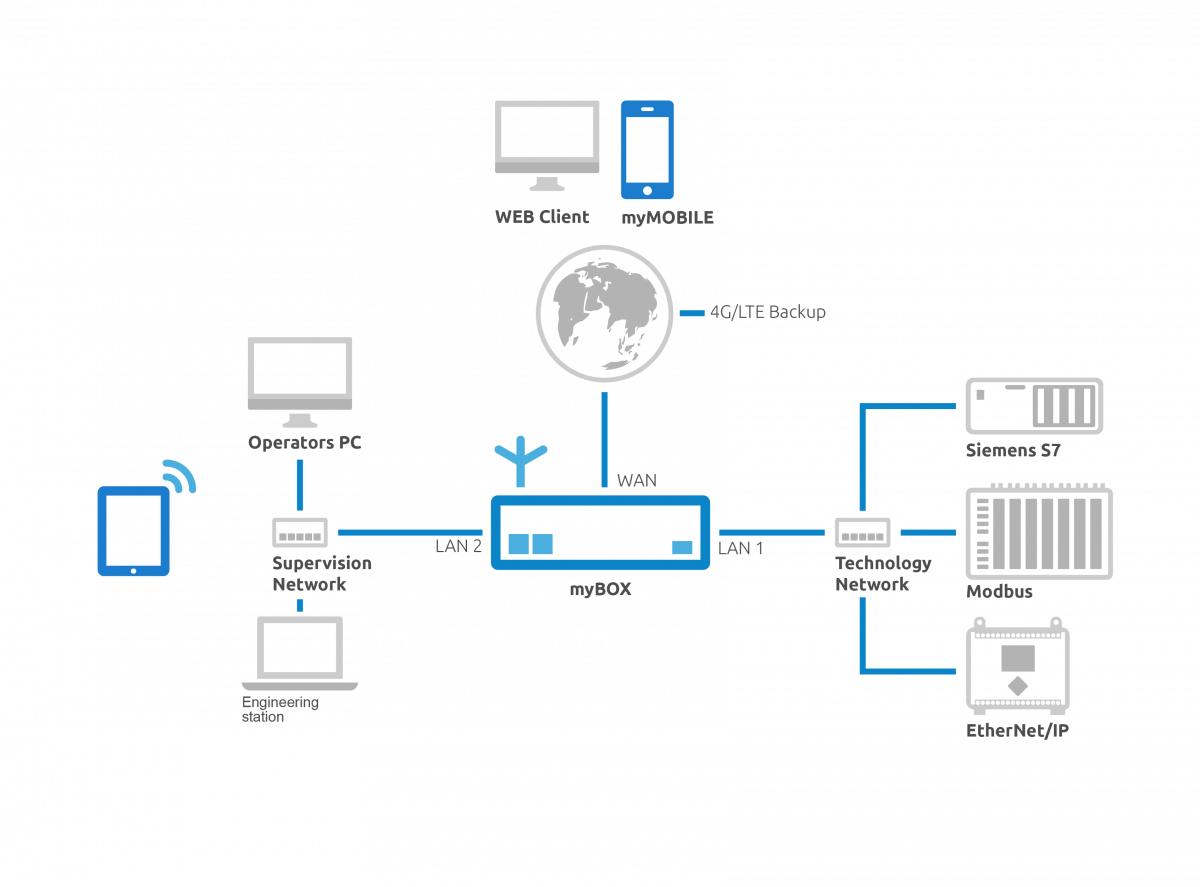 TECHNISCHE DETAILS
b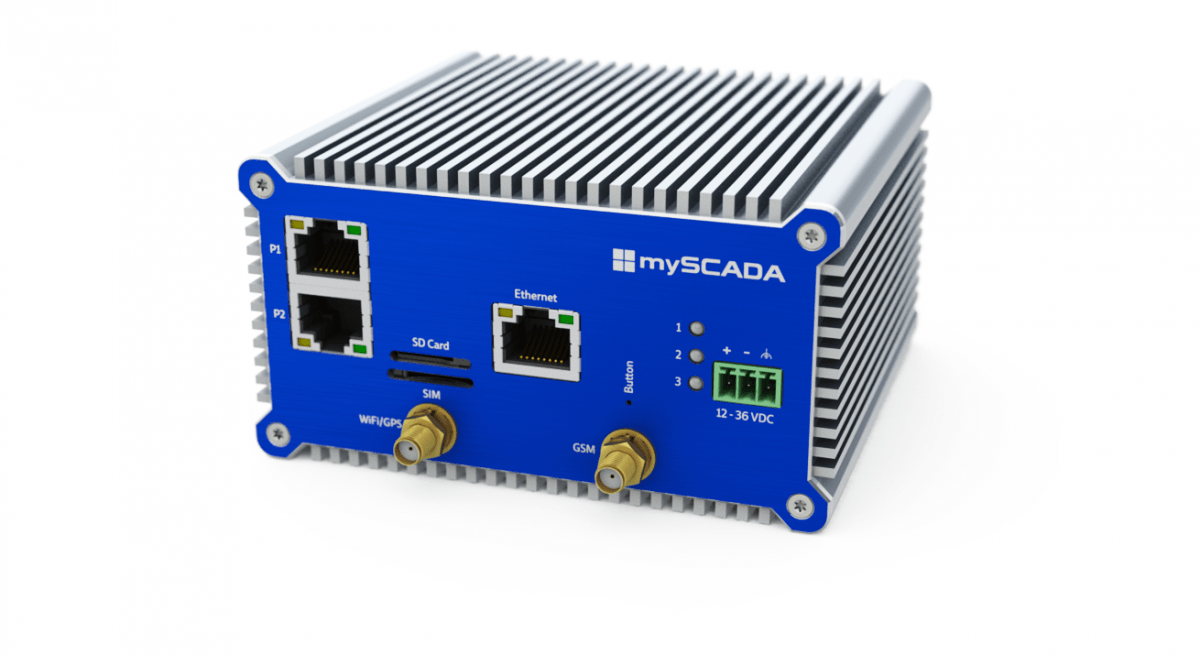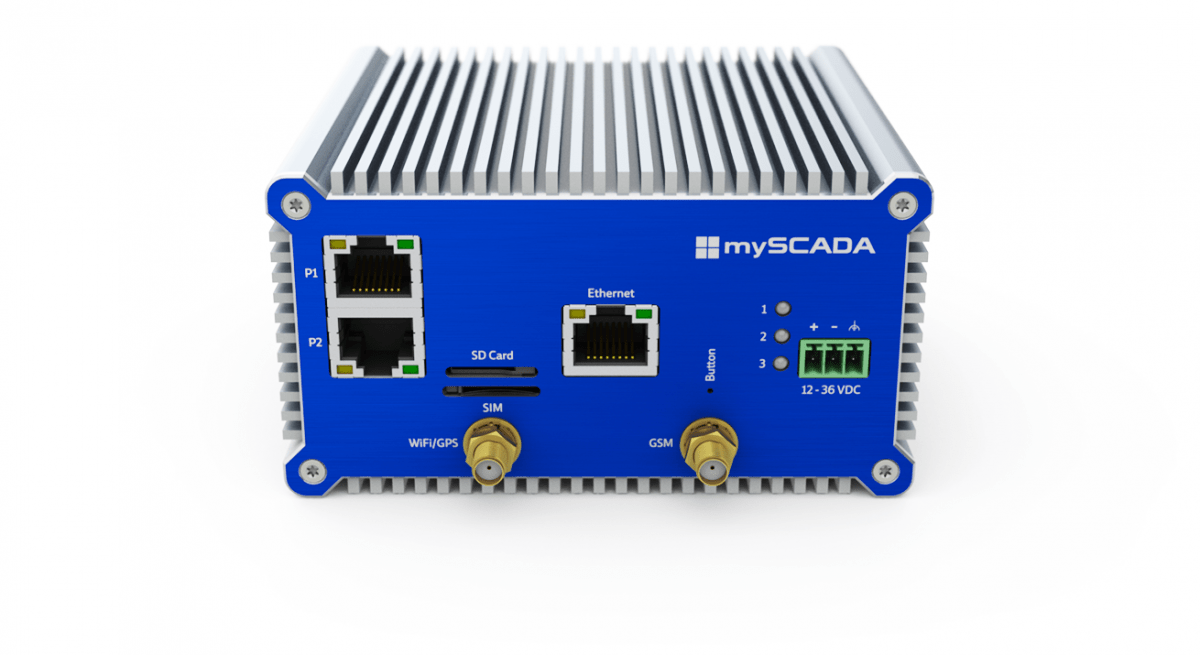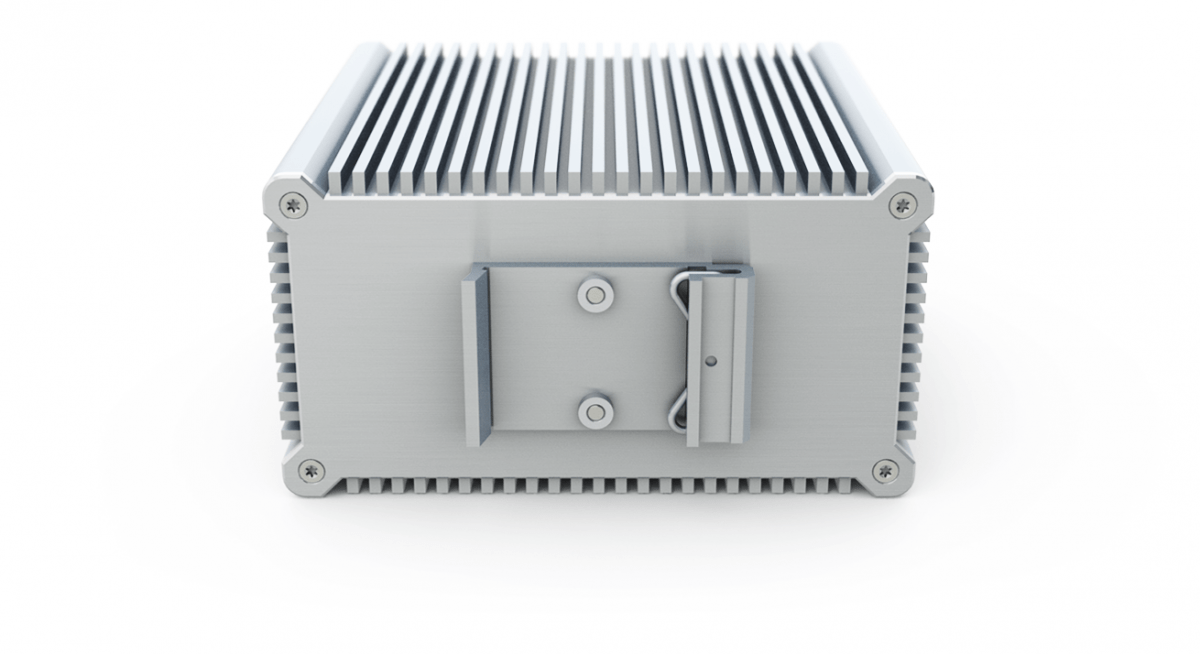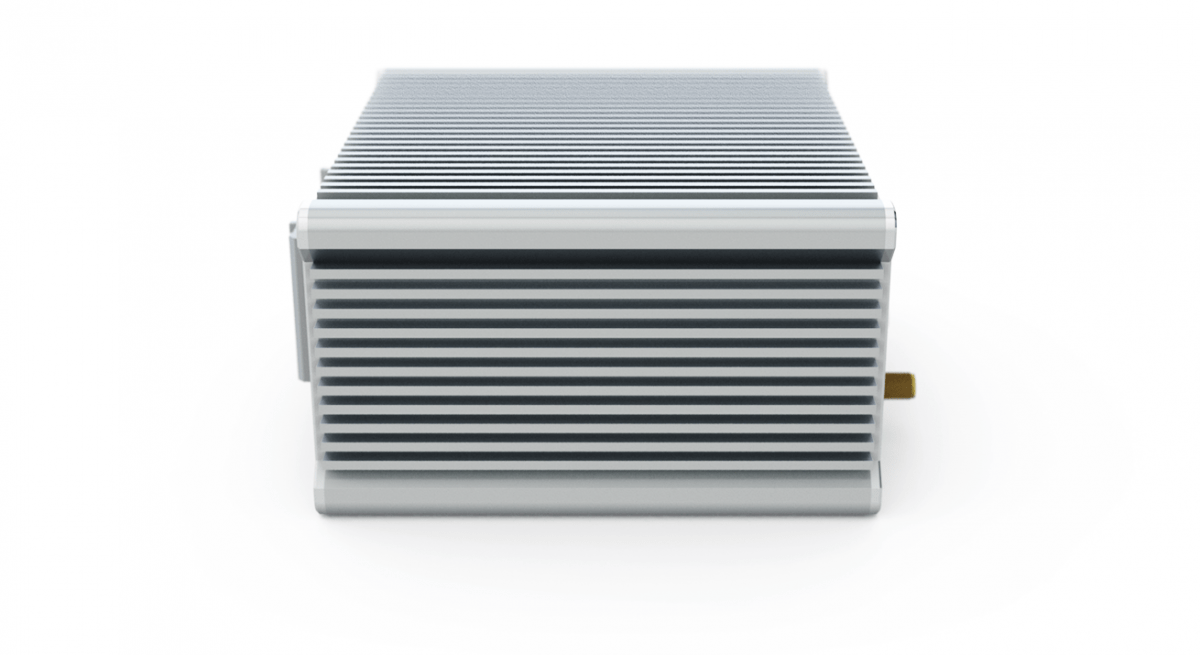 b
b
| | |
| --- | --- |
| Parameters | |
| Storage | 8 GB Flash, Optional SSD Drive 32 GB |
| CPU | 1,1 GHz quad core processor |
| Memory | 1 GB RAM |
| WiFi | AP mode |
| SD Card | Yes |
| Ethernet 10/100/1000 Mbit | up to 3 ports |
| RS232 | up to 4 ports |
| RS485 | up to 2 ports |
| HW Watchdog | Integrated |
| Power | 12-48 VDC |
| Size | 112 x 60 x 104 mm (W x H x D) |
| Temperature range | -20 to +70 °C |
| Certification | CE, RoHS |
| Ecology | Highly recyclable, RoHS, Ultra low power consumption |
| LTE Module | |
| Type | LTE (FDD) B1/B2/B3/B5/B7/B8/B20 DC-HSPA+/HSPA+/HSPA/UMTS dual-band B1/B2/B5/B8 EDGE/ GPRS/ GSM quad-band 850/900/1800/1900 MHz |
| Download Speed | 100Mbps |
| Upload Speed | 50Mbps |
| Certifications | CE, GCF, RoHS |
| PLC Protocols | |
| Siemens S7 | S7-1200,  S7-1500, S7-300, S7-400, … |
| EtherNet/IP | ControlLogix, CompactLogix, Micrologix 1200, Micrologix 1400, Micrologix 1500, SLC 500, PLC 5, Omron PLCs, … |
| Modbus TCP | Wago, Schneider, Micrologix, RTUs, …. |
| Modbus Serial | ABB AC500, ABB AC700, IPCDAS, ADAM, RTUs,… |
| Melsec Binary | Melsec-Q, E71 controller type, 3E packets |
| Toyopuc | Full support with hierarchy |
| OPC UA | New OPC standard |
b
DOWNLOADS
b
myBOXManualsVersion 7
For downloading softwares, please register or log in here.
b
For previous versions, please, go to HISTORY