RIGHT SCADA IS CLEAN WATER
MYSCADA SOLUTION REDUCES TIME AND MONEY WASTING IN WATER AND WASTEWATER INDUSTRY
Water and Wastewater treatment is crucial for living on the planet but also for mySCADAs development department that creates project to satisfied customer needs. Real time data and outcomes that are understandable help to optimize productivity, save total costs and make the cleaning process more effective. How the visualisation works? Look at our references below to inspire:
REFERENCE
 ŠKO-ENERGO is an operating company established in 1995 that supplies energy and broad range of services such as raw water treatment and waste liquidation for the company ŠKODA AUTO, a.s. ŠKO-ENERGO is also a supplier of heat for 12 000 homes and more than 200 business entities and institutions in the city of Mladá Boleslav in Czech Republic.

In 2013, ŠKO-ENERGO installed a new control system in the water treatment plant in Bradlec incorporating latest trends in the field of operators control. On the visualization level, the customer required a secure and flexible SCADA system with advanced visualization based on vector graphic providing for flexible scaling as requirements increase. The HMI was installed on operators PCs as well as on iPAD that is used as a mobile operator's panel in field. To get the maximum use of the plant production data ŠKO-ENERGO required remote 24/7 access, data logging, trends analysis & reporting, complex alarm system and online data acquisition. All these requirements were met by installing one single device – myBOX OPTIMUM into the control system.
.
TOPOLOGY
.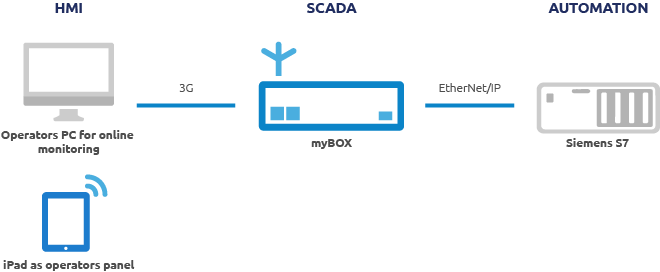 RESULT
The core parts of the new control system are the controller Siemens S7 1200 and myBOX OPTIMUM with LTE. The plant system visualisation created in the software myDESIGNER runs on myBOX and supports the operating personnel on all levels with clear and panoramic views. The operators PC connect remotely via web-browser, iPad runs native myMOBILE application, which connects directly to S7 1200. The integrated myBOX OPTIMUM met all requirements of the customer. The plant operating personnel is supported by the modern scalable SCADA system enabling effective data processing that is deployed on mobile iPads as well as on operators PCs at a remote office. The required production data can be retrieved on request at any time from anywhere and used to make the right management decisions maximising production efficiency, saving redundant costs and guaranteeing the water quality criteria.
SCREENSHOTS
.