COMPACT SOLUTION
SUITABLE FOR ANY PROJECT
myBOX delivers a comprehensive solution for monitoring and control of your technology. With myBOX you get the top performance HMI/SCADA server and advanced simple to configure VPN router. All embedded in an industrial-grade package.
USER FRIENDLY DEVICE
This compact box is a perfect solution for automated operations where it is complicated or expensive to use a regular computer.
.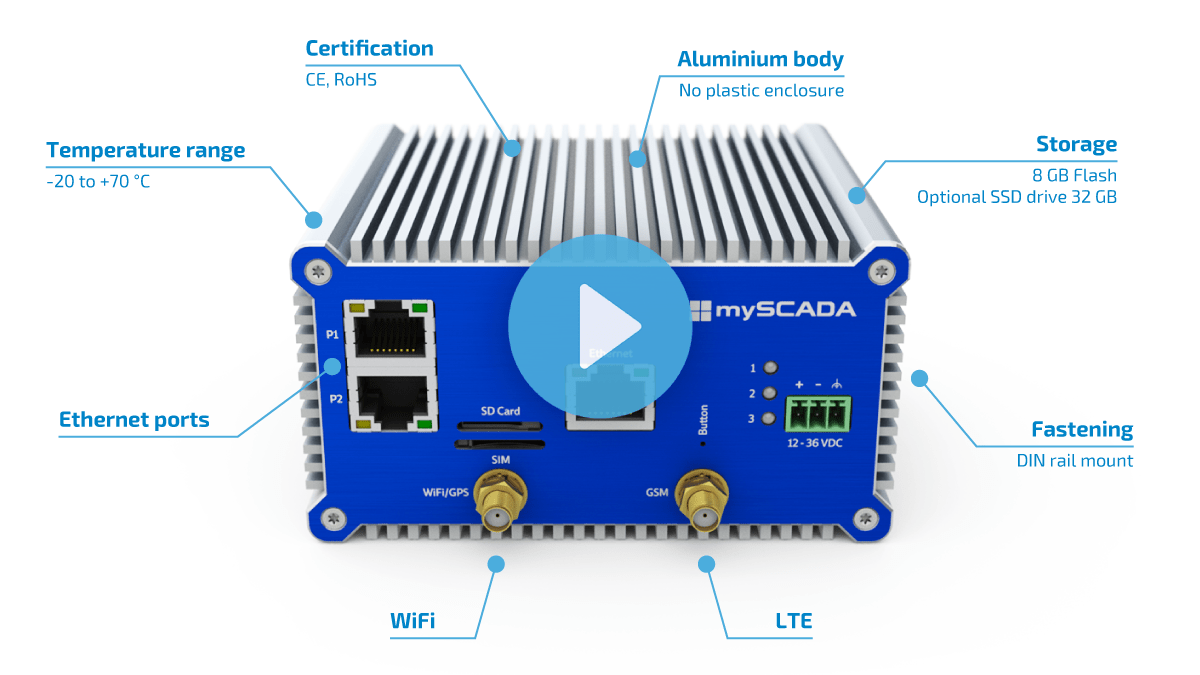 APPRECIATED ADVANTAGES
Imagine you can have a full HMI / SCADA server without the installation troubles, maintenance updates, with remote connectivity, and for a price, you can afford. myBOX was built based on long experience in the field of industrial automation. You can set up your SCADA system in minutes. Just plug myBOX next to your controller, set up IP and VPN to get remote connectivity, download a project and you are all set. myBOX brings many advantages:
Scalable vector graphics
myPRO is based on scalable vector graphics. Thanks to this function, you can use myPRO project on any device.
In this case, the operator can use the project on his computer, tablet, or even mobile phone.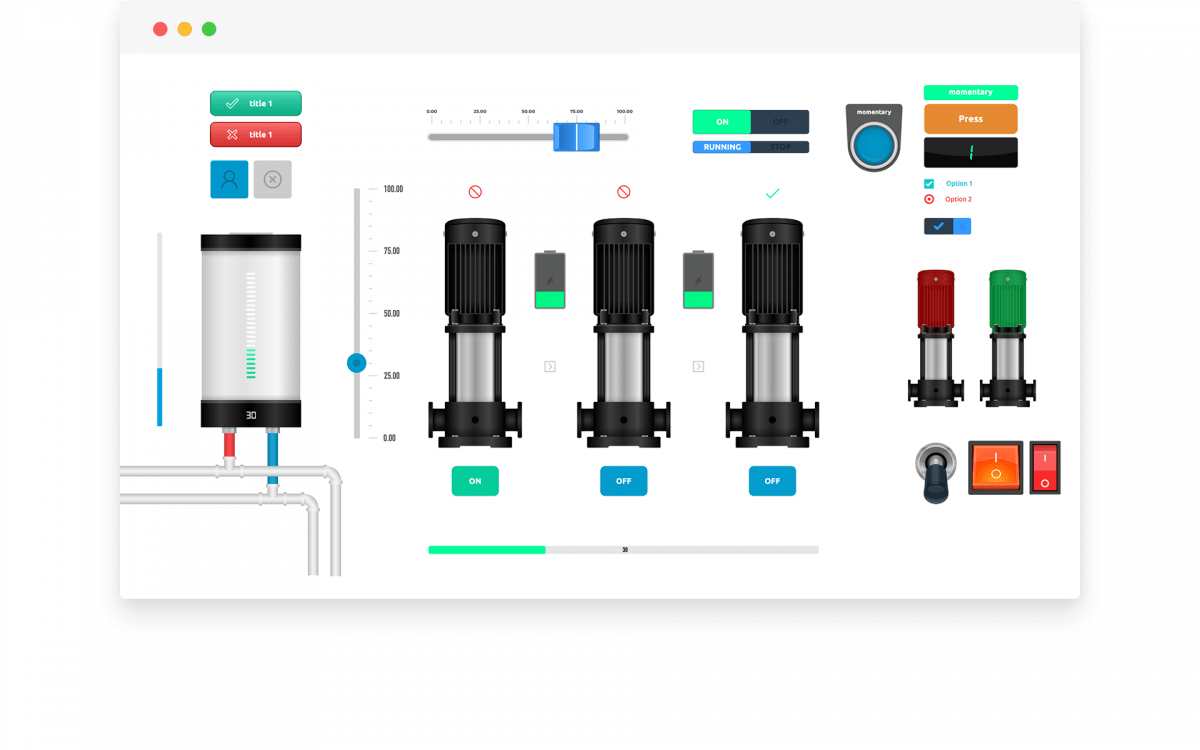 Alarm system
A complex alarm system allows you to process thousands of alarms per second.
You can define alarm activation values, value and time threshold, severity, area, and set the notification announcement.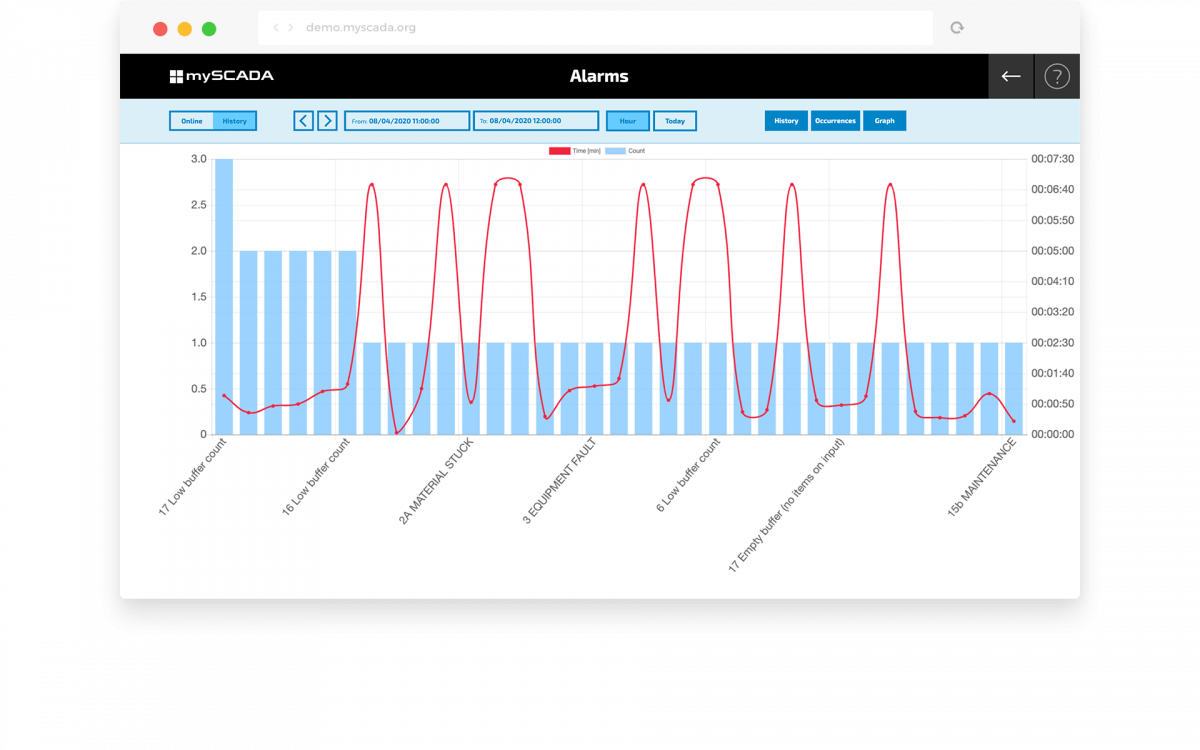 Views of technology
myPRO has unlimited options to show your technology, you can use animations,
effects or time sequences to link your graphical objects with your controller.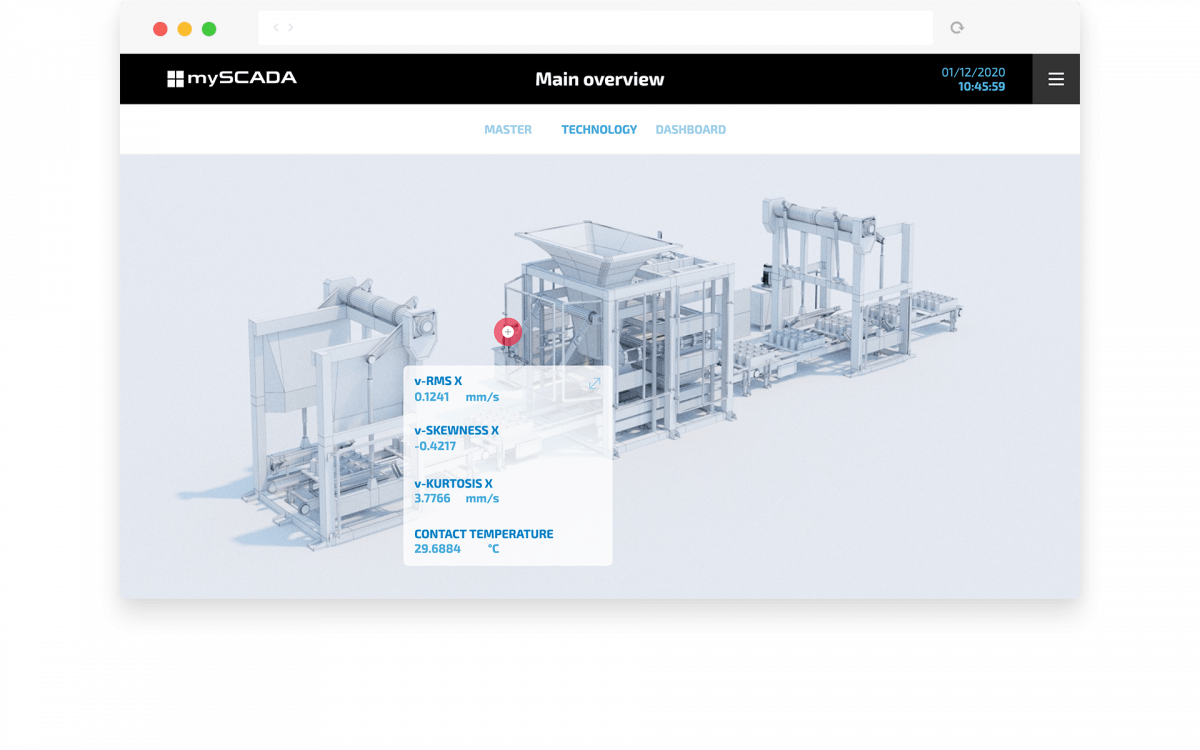 Important Trends
Simply define powerful time-based Advanced Trends with auto/manual scale, multiple axes, and live pen hiding.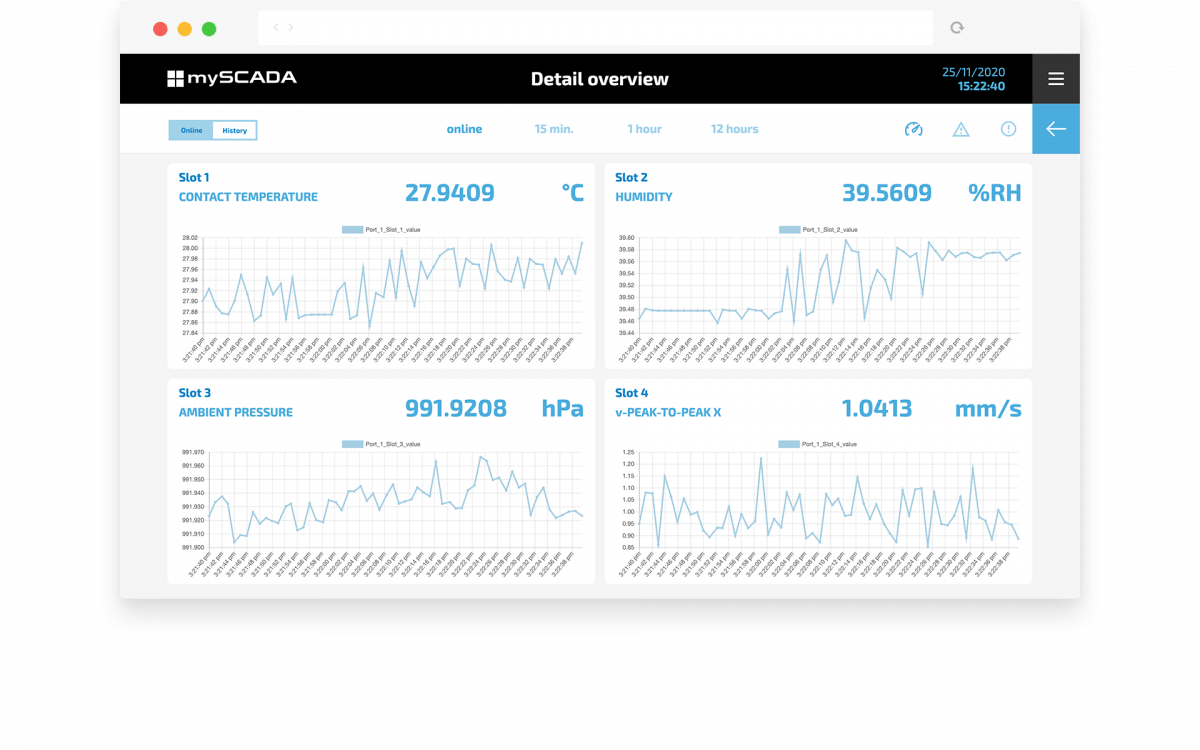 PRODUCT USERS
THERE ARE ESPECIALLY 3 TYPES OF USERS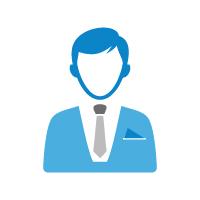 MANAGERS
are responsible for whole business. They must have an overview of the company to make decisions that help to improve operations in factory and also create appropriate strategy. myBOX gave them chance to see the factory from "inside" if necessary.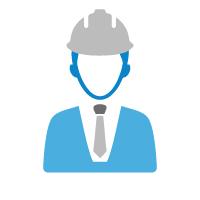 OPERATORS
often solve problems with a time delay and it sometimes increases costs rapidly. With myBOX solution, operators are informed immediately.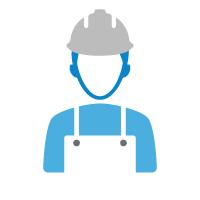 MAINTENANCE
are able to search data retrospectively, find where the problem was and thanks to remote access it saves travel costs and also time.
ALL IN ONE
These compact myBOX solutions embrace the functionality of an industrial SCADA server, communication server, HMI visualization system, switch, router, and 3G/LTE modem.
HOW IT WORKS
myBOX is connected directly to your technology network, communicating directly with your PLC/DCS controllers. Use a second ethernet port to connect your operators – this way you have two networks where computers in the operator's network cannot influence the operation of PLCs (due to a virus for example).
myBOX is able to connect your technology to the internet, securely over an integrated VPN service. You can use the LTE/4G network to use it as your primary link to the internet or it can act as an automatic backup. You can limit internet access to any network or device thanks to an integrated firewall. So myBOX works as a universal communication device.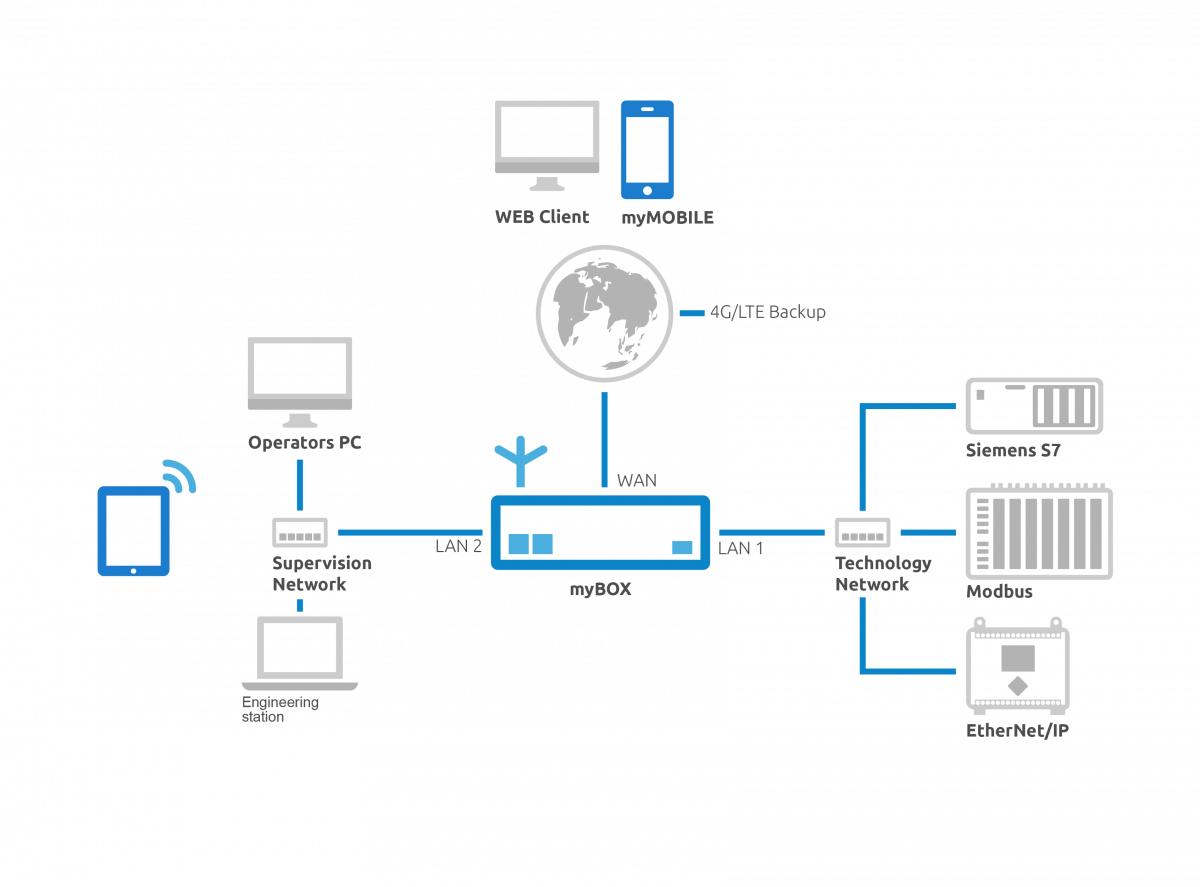 TECHNICAL DETAILS
b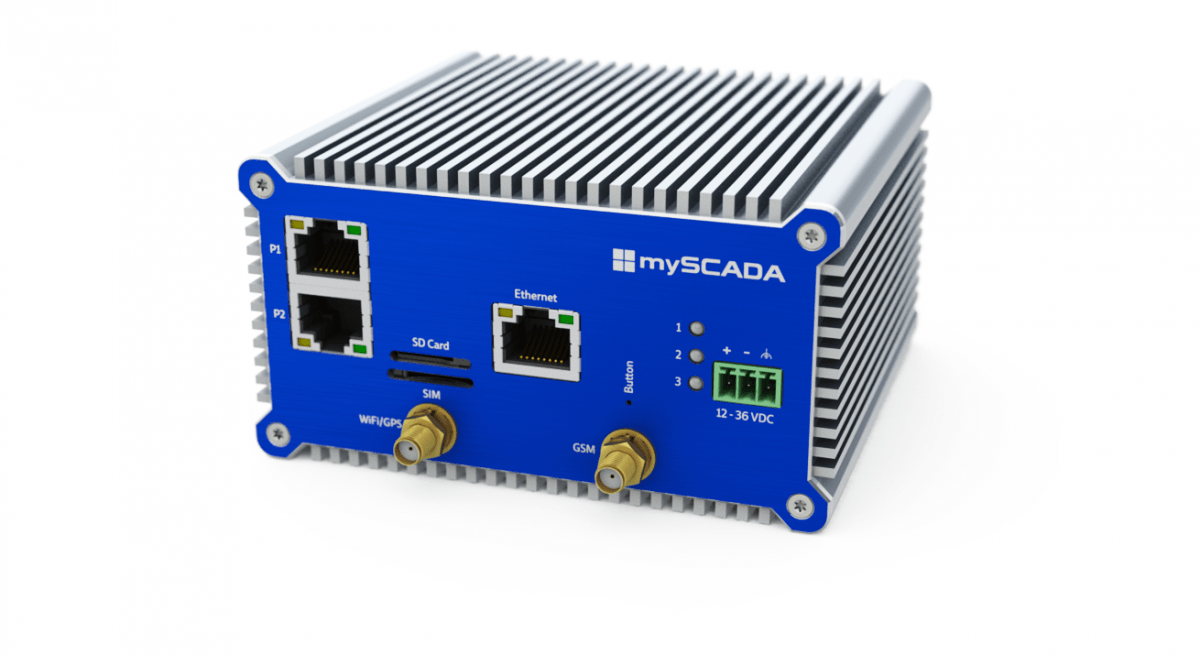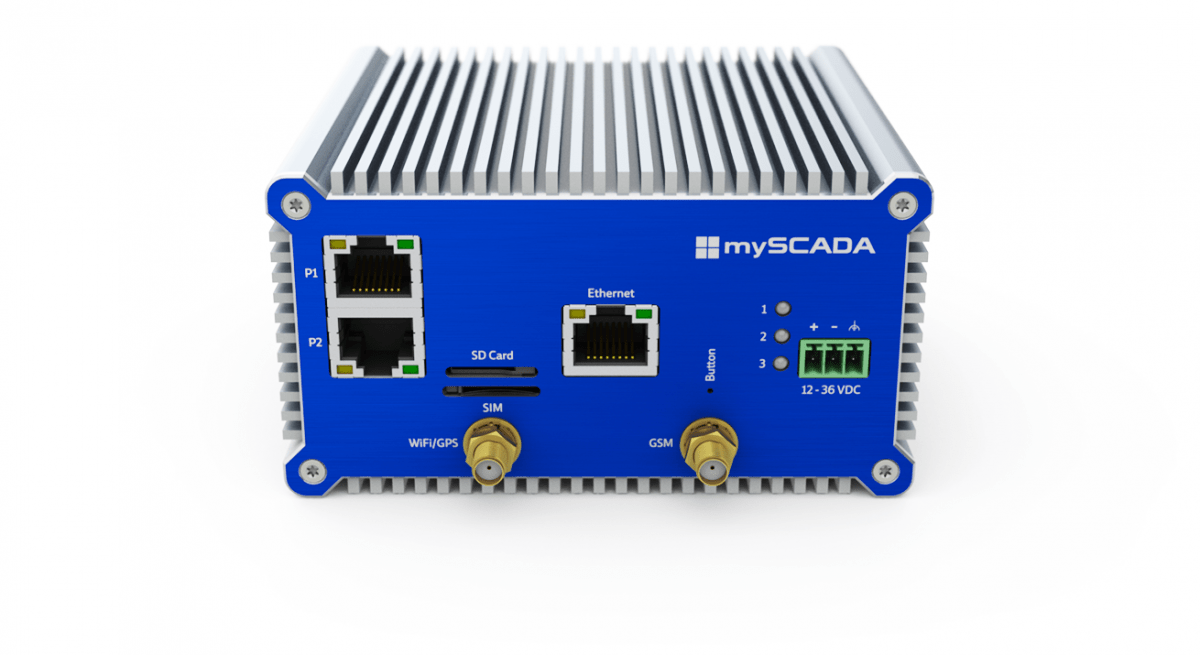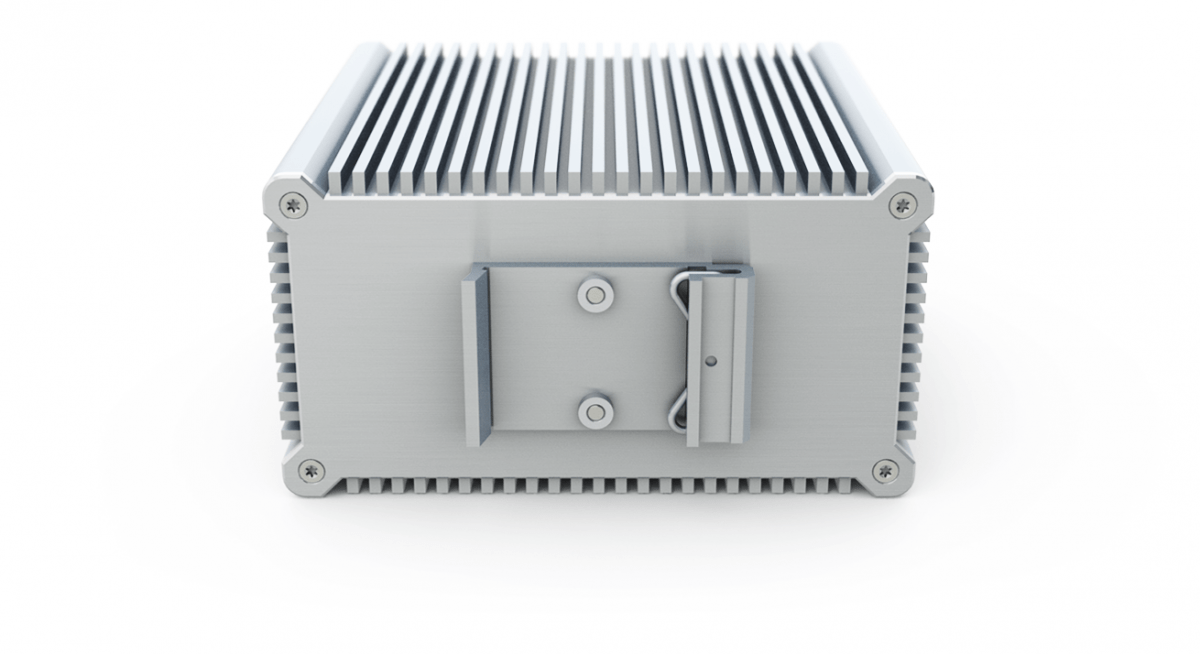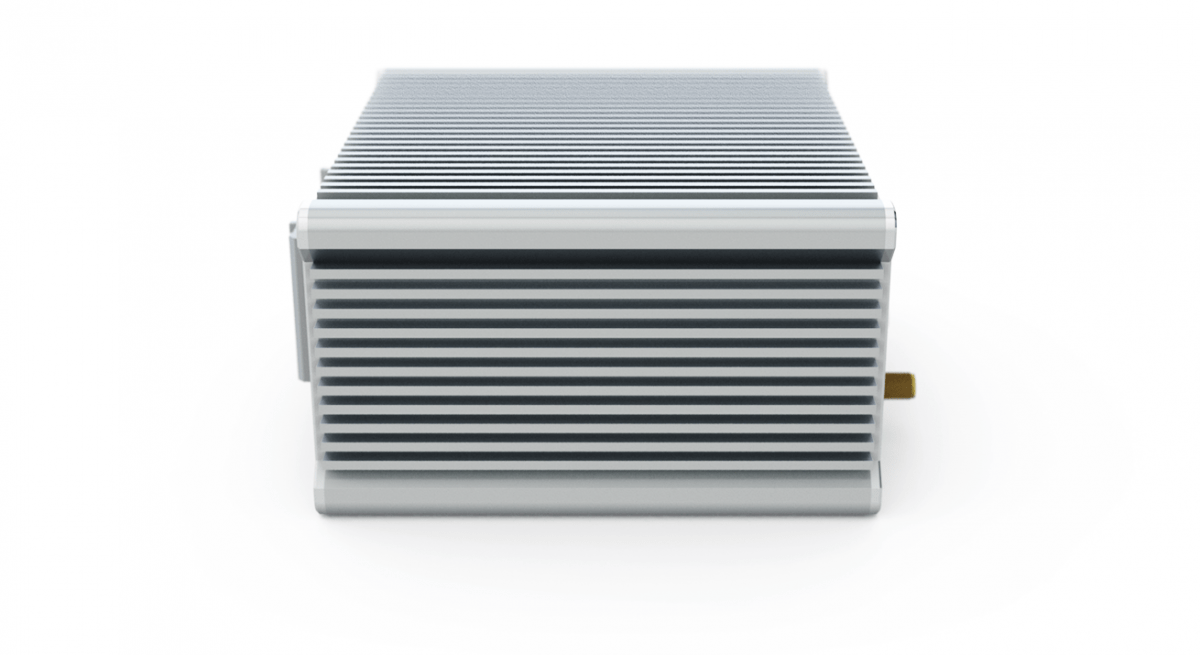 b
b
| | |
| --- | --- |
| Parameters | |
| Storage | 8 GB flash memory, optional 16 GB or 32 GB flash memory |
| CPU | 1,1 GHz quad core processor |
| Memory | 1 GB RAM |
| WiFi | AP mode |
| SD Card | Yes |
| Ethernet 10/100/1000 Mbit | up to 3 ports |
| RS232 | up to 4 ports |
| RS485 | up to 2 ports |
| HW Watchdog | Integrated |
| Power | 12-36 VDC |
| Size | 112 x 60 x 104 mm (W x H x D) |
| Temperature range | -20 to +70 °C |
| Certification | CE, RoHS |
| Ecology | Highly recyclable, RoHS, Ultra low power consumption |
| LTE Module | |
| Type | LTE (FDD) B1/B2/B3/B5/B7/B8/B20 DC-HSPA+/HSPA+/HSPA/UMTS dual-band B1/B2/B5/B8 EDGE/ GPRS/ GSM quad-band 850/900/1800/1900 MHz |
| Download Speed | 100Mbps |
| Upload Speed | 50Mbps |
| Certifications | CE, GCF, RoHS |
| PLC Protocols | |
| Siemens S7 | S7-1200,  S7-1500, S7-300, S7-400, … |
| EtherNet/IP | ControlLogix, CompactLogix, Micrologix 1200, Micrologix 1400, Micrologix 1500, SLC 500, PLC 5, Omron PLCs, … |
| Modbus TCP | Wago, Schneider, Micrologix, RTUs, …. |
| Modbus Serial | ABB AC500, ABB AC700, IPCDAS, ADAM, RTUs,… |
| Melsec Binary | Melsec-Q, E71 controller type, 3E packets |
| Toyopuc | Full support with hierarchy |
| OPC UA | New OPC standard |
b
DOWNLOADS
b
myBOXManualsVersion 7
For downloading software, please register or log in here.
b
For previous versions, please, go to HISTORY