MYPRO PERFECT SCADA SYSTEM
myPRO – the perfect SCADA (Supervisory Control and Data Acquisition) system seamlessly integrates intuitive user interfaces with robust functionality, facilitating real-time monitoring and control of industrial processes. It features a scalable and modular architecture that accommodates diverse industries and applications. The system ensures data accuracy, reliability, and security while offering advanced analytics for informed decision-making. With an easy-to-use design environment, comprehensive libraries of components, and efficient communication protocols, the perfect SCADA system optimizes operational efficiency, enhances system resilience, and adapts seamlessly to evolving technological landscapes.
USER FRIENDLY VISUALIZATION
Using myPRO a best Web SCADA system is easy and comfortable not only for technically oriented person, but also for people with different professional focuses. This favourite SCADA software is customer friendly thanks to its flexibility – works on any device, on any operating system, connects an unlimited number of users, has remote access and many more functions to make your life easier.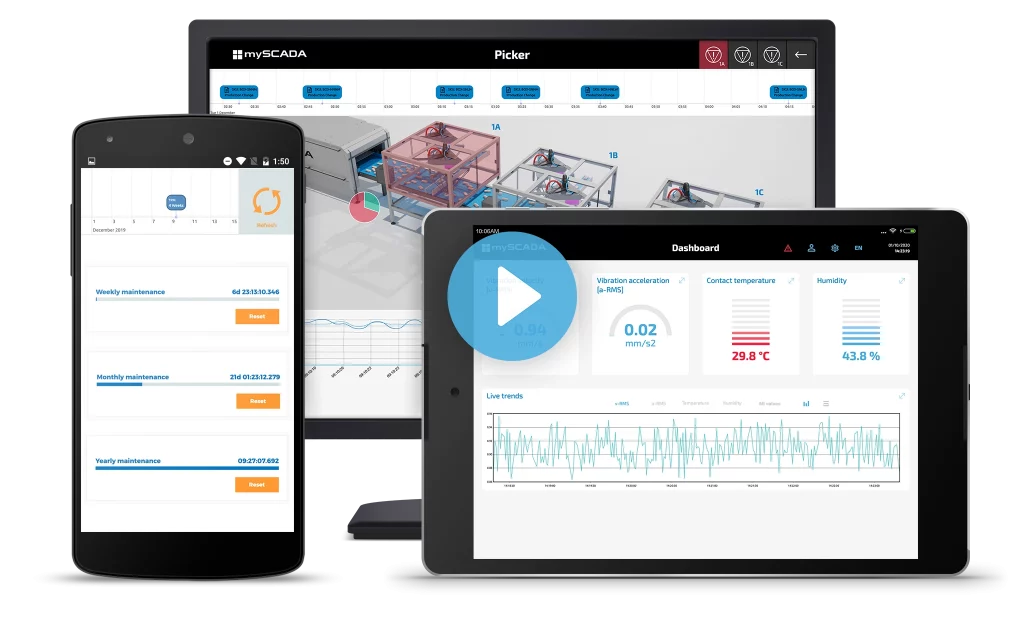 SMART TECHNOLOGY CONTROL
Features that really help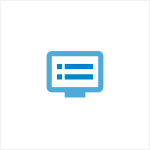 General overview of technology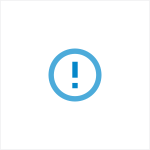 Alarm system and statistics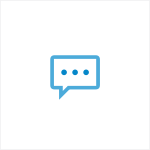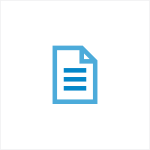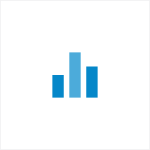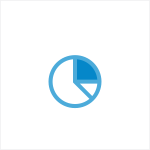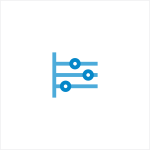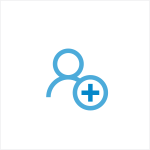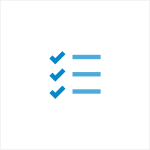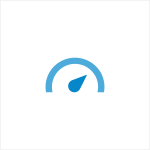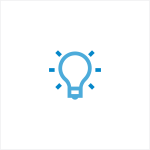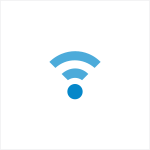 APPRECIATED ADVANTAGES
Using myPRO, you can optimize processes and consequently increase production and decrease total costs. Undoubtedly, a great advantage is the ability to detect flaws and irregularities. In these situations, myPRO proactively notifies you, bringing time and money savings.
General overview of the technology
Visualizations in myPRO are simple and clean, using scalable vector graphics. myPRO gives you the possibility to have a general overview
but also to see the details you need. This software is available for smart devices to have the production under control anywhere.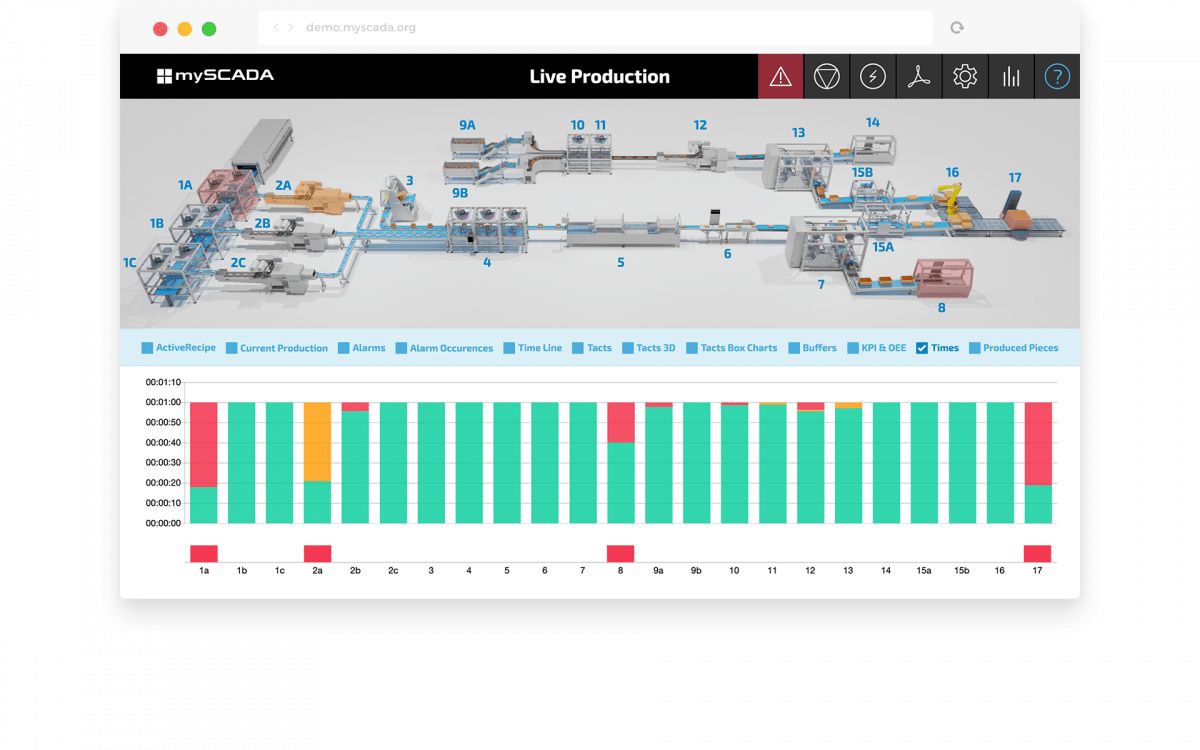 Changing of production requirements
With just two clicks, myPRO is able to change the recipe or the ratio of the ingredients.
The technologist in the factory can easily respond to the market demand.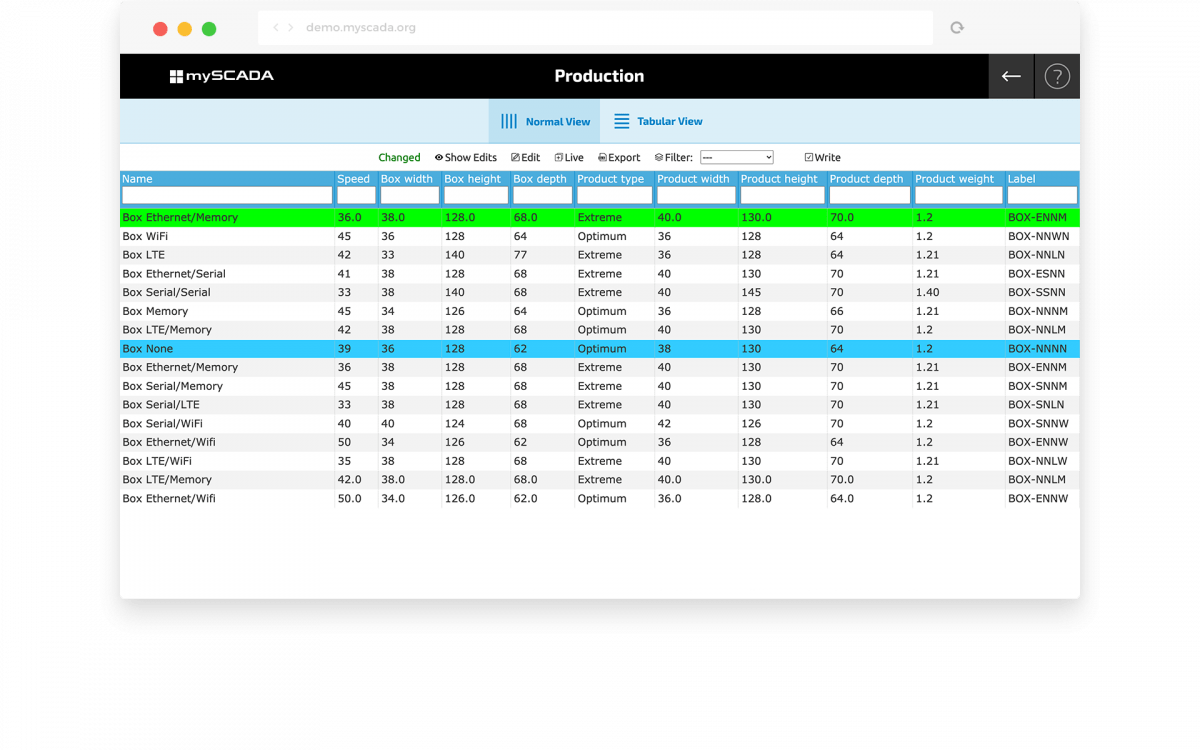 The production overview
myPRO allows you to see the production overview in a table as well as in a graph.
The data is well organized and enables the employees to work effectively.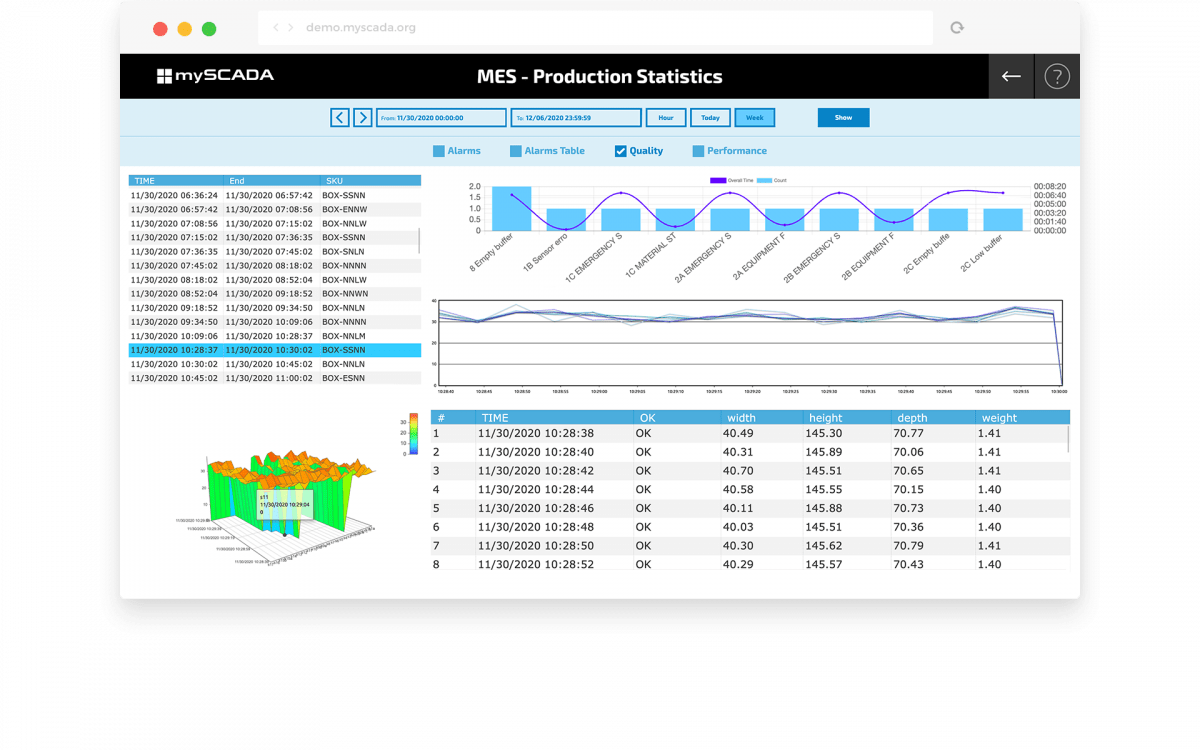 Data for smart reporting
All data from the visualization is also available in the report form and is ready to send
to the management of the company. Just with a few clicks, the data is exported to PDF or MS Excel.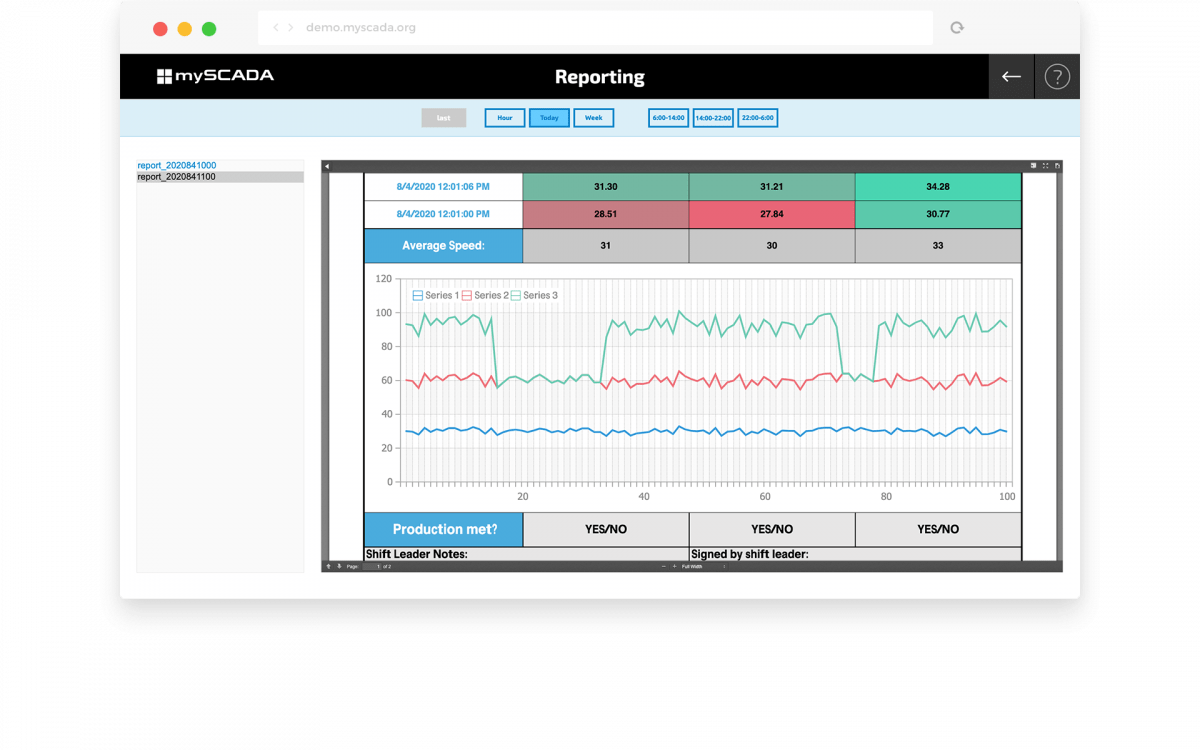 Prioritization
A new myPRO feature contains not only the number of failures but also its time duration.
This helps to prioritize which problem has to be solved immediately.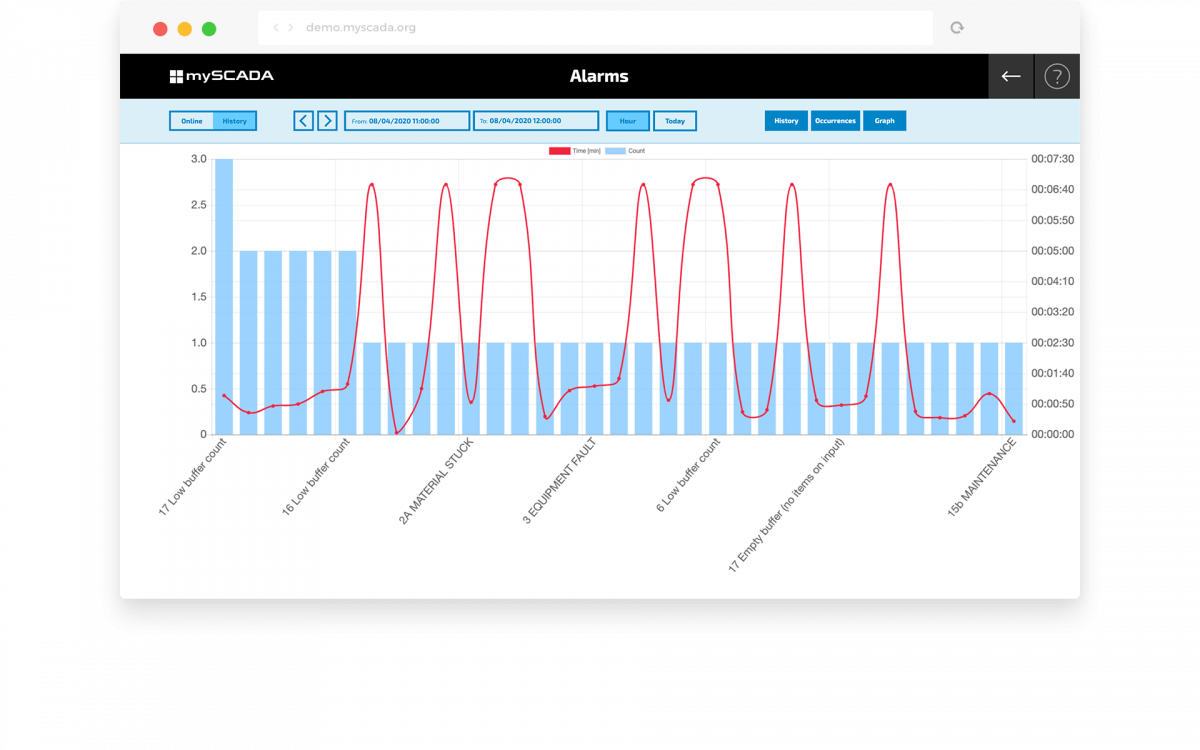 The overview of user actions
myPRO collects any change which has been made by the employees during their shift.
myPRO gives the total control of user actions including who, when, and why anyone made the change.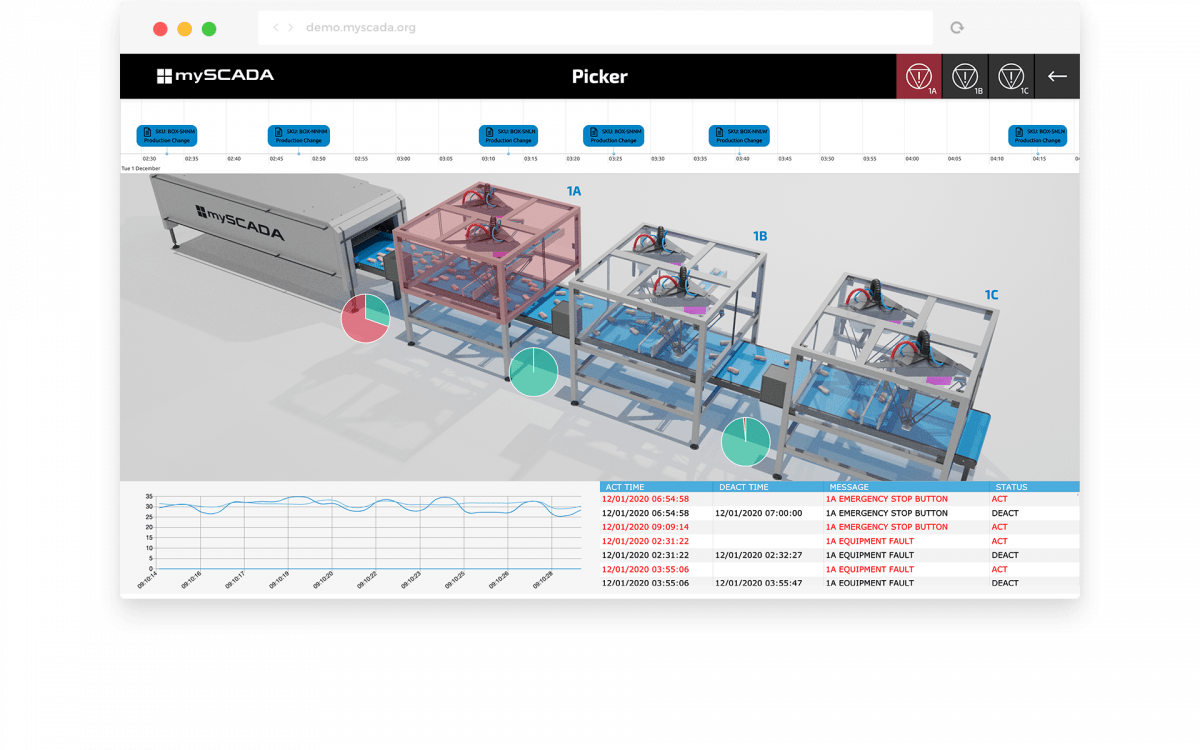 WORKS ON ANY DEVICE
3 TYPES OF SOLUTION DEPENDING ON COMPANY SIZE AND SPECIALIZATION:

SERVER SOLUTION
Install myPRO on server and have client/server architecture for large scale projects.

DESKTOP SOLUTION
Use myPRO directly on operator's PC to reduce cost and trouble-free setup.

OPERATOR'S PANEL SOLUTION
myPRO is optimised for touch interfaces. It is a good fit for operator's panel.
TECHNICAL ADVANTAGES




TECHNICAL DETAILS
.
| | |
| --- | --- |
| Operating systems | |
| Microsoft Windows | Windows 10, Windows 11, Windows Server 2008 R2, Windows Server 2012 R2 and newer |
| macOS | 10.8 and above |
| Linux | Debian, Linux Mint, Ubuntu, SuSe, RedHat, Fedora |
| PLC Protocols | |
| Siemens S7 | S7-1200,  S7-1500, S7-300, S7-400, … |
| EtherNet/IP | ControlLogix, CompactLogix, Micrologix 1200, Micrologix 1400, Micrologix 1500, SLC 500, PLC 5, Omron PLCs, … |
| Modbus TCP | Wago, Schneider, Micrologix, RTUs, …. |
| Modbus Serial | ABB AC500, ABB AC700, IPCDAS, ADAM, RTUs,… |
| Melsec Binary | Melsec-Q, E71 controller type, 3E packets |
| Toyopuc | Full support with hierarchy |
| OPC UA | New OPC standard |
| Databases | |
| Microsoft SQL | |
| PostgreSQL | |
| mySQL | |
| Oracle | |
| ODBC | |
DOWNLOADS
b
myPRO Runtime*Manuals
For downloading software, please register or log in here.
*Unregistered version is unlimited and only for non-commercial use and testing. After 2 hours, it is necessary to reboot the computer.

Windows
Download
MacOS
Download
MAC OS Catalina users: Before installation, please open terminal and run xcode-select –install
Linux
Download
Changelog
Changelog
For previous versions, please, go to HISTORY