FASTER AND RELIABLE WAY
MYSCADA PREVENTS DIFFICULTIES IN TRANSPORT
mySCADA understands that transport belongs to an important part of today's global economy. That is why we have developed software specifically in accordance to the requirements in telematics field. mySCADA was used in several tunnel control projects proving to be optimal SCADA solution in this field. mySCADA offers complete visualisation and control that brings high level of reliability and consequently helps to decrease transport costs in a very short time. How to satisfy your customers while wasting no money and time? Look at our demo and reference of Husovice tunnel below:
REFERENCE
Husovicky Tunnel in Brno, Czech Republic Husovicky tunnel was built in 1999 with the objective to ease traffic congestion between the east and north districts of the city Brno in Czech Republic. It is approximately 600 meters (0.4 miles) long. Thousands of cars pass through every day. In order to enhance the safety in the tunnel and make the tunnel maintenance more efficient the previous obsolete automation system. Monitoring traffic signs, lights and ventilation was replaced by a new automation technology in 2012.
 The new control system is based on progressive modular system of ControLogix PLCs and myBOX following the latest trends in automation in performance and security. All visualizations are made in mySCADA Editor and deployed to PCs in the control rooms as well as to iPads that are used as local operators' touch panels. The operators can retrieve online system data in the control room as well as in the field. The authorized operators can change the alarm activation values, alarm description, severity, action mode and notice delivery (SMS, e-mail). All history data are logged with 1-second precision in myBOX and available on request anytime, so that the operators have a full control over all events and alarms. With the remote access the system can be accessed 24/7 from anywhere while ensuring system safety.
b
TOPOLOGY
.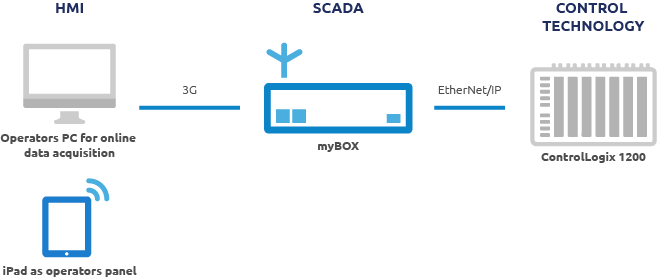 RESULT
The deployment of mySCADA application offered the ideal solution for the customer. The advanced visualization of the tunnel technology gives a perfect and user-friendly overview of the entire system. The operators can easily monitor the lights, ventilators and traffic signs, rapidly detect any system failure and – if requested – change the system parameters. The maintenance personnel can take advantage of unlimited mobility and operate the technology in field with the mobile iPads. Running the application on the iPads fully replaced obsolete HMI panels in the control room. The system is shared with police and fire brigades who on-line monitor the tunnel directly in their own control rooms. The customer gained significant acquisition price savings as the mySCADA system price is a fraction of the price of the competition systems. The synergy of ControLogix and mySCADA presents a very innovative and powerful SCADA solution to provide for maximum security, smooth traffic flow and constant system overview.
SCREENSHOTS
.